Boca Raton Public Adjusters – Aftermath Adjusters & Consulting, LLC
Property ownership in Boca Raton is a mark of considerable success. It is likely the result of hard work and careful planning. And not surprisingly, caring for your property is a top priority.
Appropriate insurance coverage is perhaps the most important thing property owners need to have, especially when they live in Florida, where severe weather is not uncommon. The damage from tropical storms and hurricanes can be catastrophic.
Unfortunately, simply purchasing the correct coverage and paying your premiums does not guarantee that your insurance claim will be fairly paid or even in a timely fashion. Boca Raton property owners regularly face instances of delayed, denied, and underpaid claims.
The reason for this is quite simple – insurance companies are businesses. They look out for their best interest, not the policyholders. Each paid claim is an expense that negatively impacts their bottom line. Thus, they do all that they can to get insureds to settle for as little as possible. Unfortunately, this is common with insurance companies throughout the state.
If you own property in Boca and have sustained damage, Aftermath Adjusters & Consulting, LLC in Boca Raton can help you!
Our firm is staffed with the very best professionals of Public Adjusters in Boca Raton, Florida. We are knowledgeable in both insurance and construction and have extensive experience in serving property owners in Boca Raton. When you engage us to manage your claim, you can rest assured we will handle everything from beginning to end. You can focus your efforts on your family, your business, and your life. We offer the best and most comprehensive service with our team of Public Adjusters in Boca Raton!
---
Causes of Property Damage

When you own property in Florida, you know things can go wrong. Even individuals who take meticulous care of their homes and businesses occasionally have to file a property insurance claim. Repairing damage can be incredibly costly – you need your insurance company to step up and help.
If you live in Boca Raton, you have likely seen, firsthand, the damage that Florida storms can cause. The wind and rain can be devastating and the resulting damage considerable.
Surviving a storm can be traumatizing and the insurance process that lies ahead is very involved and, most times, overwhelming for a home or business owner. Insurance claims require a mountain of paperwork, constant time-sensitive communication, and sometimes, several inspections. However, all of this is necessary to secure a fair and accurate reimbursement to complete needed repairs to your property.
---
Storm Damage: It Can Be Shocking

Who doesn't want to live in Boca Raton? The name of the city is synonymous with paradise! But, the weather is continually changing. Sunny skies can instantly turn gray and stormy in what seems like a matter of moments. Especially during hurricane season – even storms that are too small to be named can cause significant damage.
Do you own property in Boca Raton that has suffered damage due to weather? If so, take a moment and contact the local professionals at Aftermath Adjusters & Consulting, LLC. Our team is ready to begin work on your claim immediately. We appreciate that time is of the essence. Let us help you begin work and get the compensation you need and deserve.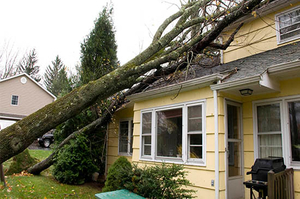 ---
Damaging Roof Leaks
Roof leaks are not always a covered property insurance expense. However, if the leak is the result of damage from weather, you may be able to submit a claim for reimbursement. But, you must document the damage and prove its source. This challenging task is one that the professional public adjusters at Aftermath Adjusters & Consulting can help you complete.
For years we have helped Boca home and business owners submit their roof leak claims. Our experienced professionals review your policy and the damage to your home and, if applicable, file the claim on your behalf.
It is important to know that storm damage to a roof, regardless of a roof's age, can be a reimbursable expense. So, even if you have an older roof, we can help you get the money you need for its repairs.
---
Water Causes Major Damage
Water damage
is the most frequent type of insurance claim filed; a fact that takes many by a surprise.
Water can actually create extensive damage. Leaky faucets, burst pipes, and malfunctioning appliances are common. If not rectified immediately, smaller issues like water stains can evolve into much more serious ones including mold, mildew, and even structural concerns.
Stopping the source of water and properly drying it out as quickly as possible is imperative to prevent further damage.
Reach out to our office in Boca Raton to schedule an inspection of your damages with our professional team of public adjusters so that we can properly and fully access your damages as well as provide proper and accurate notice to your insurance company.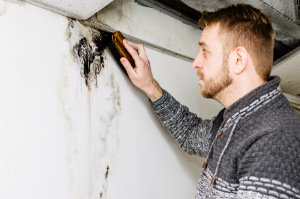 ---
Mold Damage

When property owners hear the word "mold", they tend to panic and assume the worst. Their fears are not unfounded. Mold is incredibly damaging and costly to remediate. If not addressed quickly and properly, it can also negatively impact your health and that of your family and employees. Also of concern is the fact that mold is not always a covered insurance expense. However, if the mold at your property results from a water leak, you may be in luck.
Our Boca Raton team of public adjusters can help you identify the cause of the mold and help with the steps of having it properly remediated. Our team manages your entire claim form submission, all necessary reports, and documentation, inspections, and negotiation to a fair and adequate settlement.
---

Managing Fire and Smoke Damage

The combination of fire and smoke can devastate your property and they often leave nothing in their wake. If you experience a fire, you should contact the Boca Raton Fire Department to make sure that the fire is completely extinguished – also, to ensure that your structure, you, your family, and your pets are safe and are no longer in danger.
This in turn also generates a fire report. Not having one may result in your claim being denied.
---
Cast Iron Pipe Damage
Boca Raton has a rich and beautiful history, as well as a host of buildings constructed prior to 1974. While the architecture of these structures is eye-catching, it is what one can't see that can be the biggest problem. You see, in older buildings, cast iron piping is common. These pipes can begin to decay over time and the damage that results can be significant.
If you hear gurgling pipes, see water damage and insect infestation, or smell sewage odors; you may have an issue at hand. Left untreated, you can experience damage to your drainage system and plumbing backups. As time goes by, the structure of your property can be at risk.
Our Boca Raton professionals are available to inspect your home and identify the existence of cast-iron pipes. Identifying potential issues before costly damage occurs can save you time, money, and a host of aggravations.
Contact Aftermath Adjusters & Consulting, LLC in Boca Raton for more information.
---
Aftermath Adjusters & Consulting, LLC in Boca Raton: We Can Help You
If you need to file a property insurance claim in Boca Raton, it makes sense to engage the help of experienced and qualified professionals. The process can be overwhelming as it requires a lot of coordination to properly navigate the claims process and all of its moving parts.
Our knowledge, experience, and professionalism are regarded in Boca Raton. We have a proven reputation for helping local residents and property owners navigate the rocky waters of the insurance claims process. We ensure all of our client's claims are handled with the utmost care.
We can assist you with a new claim from beginning to end or revisit claims that were underpaid or even denied. Our ultimate goal is to get you the compensation you need to restore your property to its pre-loss condition.
We know each case is unique and are ready to put all of our knowledge and resources to work on your behalf. We will always keep you informed of our progress and will happily answer your questions or address any concerns.
If your Boca property has been damaged, don't wait – contact Aftermath Adjusters & Consulting immediately. We are ready to go to work and fight for what you deserve! Contact Aftermath Adjusters & Consulting, LLC today!