Aftermath Adjusters & Consulting, LLC in Broward County
Maintaining a property requires a lot of effort. Owning a house is really gratifying, but when disaster strikes, you need a reliable public adjuster. Not all insurance companies have your best interests in mind. A skilled public adjuster will battle for you to get a fair settlement for the damages to your house. Aftermath Adjusters & Consulting, LLC can save you time and money on property damage in Broward County. Allow our licensed public adjusters to advocate on your behalf to guarantee you receive the money you are entitled to. Our Broward County public adjusters take a one-on-one approach to keep you updated throughout the process. When you require assistance, we will be there.
Do you own a home or business in Broward County, either residential or commercial? If so, you'll eventually need the help of a public adjuster. Public adjusters are qualified and experienced insurance claims adjusters that represent you, the policyholder, throughout the negotiation and assessment of an insurance claim. We have a combined experience of more than 50 years. We understand how aggravating the claims process can be for property owners in Broward County.
Having a public adjuster might help alleviate the headache when a disaster happens. From the initial inspection to gathering and providing your insurance company with the documents necessary to conduct a thorough investigation of your claim, to preparing a professional estimate, negotiating your claim, and meeting at all on-site inspections, etc., we are there to guide you through the process step by step.
Natural disasters such as water damage, hurricanes, and fires can cause substantial damage to your property. Fortunately, with a public adjuster on your side, you will not have to deal directly with your insurance carrier.
---
Wind & Hurricane Damage
Living in sunny Broward County has many benefits, but not hurricanes. Unfortunately, hurricanes are likely going to affect property owners in Florida. This is just one of the reasons you should be ready. Whether you have wind and hurricane damage, Aftermath can help. Contact Aftermath Adjusters & Consulting, LLC in Broward County if you have wind and hurricane damage. This ensures you receive the maximum settlement for your claim.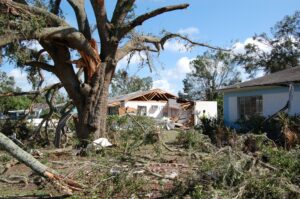 ---
Roof Leaks
It's tough to win a claim for a roof leak outside of a named storm. That's why you need Aftermath Adjusters & Consulting, LLC to help you file your claim. When you engage our services, we will battle for the maximum insurance payout.
Many policyholders do not know that they have the right to a claim because they do not understand the coverage. But did you know that if a windstorm, fallen trees/limbs, or even lightning caused it, a leaking roof is often covered? Your insurance policy can cover the damage, even if your roof is old.
---
Water Damage
Did you know that the most common homeowners insurance claims are due to water damage? This type of damage occurs due to:
Faulty plumbing, such as broken pipes
Leaking appliances, including leaking AC condensation lines, garbage disposals, ice makers, dishwashers, washing machines, hot water heaters, etc.
Water faucets left running
Broken underground pipes
And more
Water can create stains, mold, and structural damage in minutes. To ensure you receive all applicable compensation, we can carefully document the damages.
---
Mold Damage
Mold, in general, is not a covered risk. On the other hand, mold is covered by insurance when there is water damage that results in mold growth. If this is the case, your claim may be covered, and we can assist you in submitting your mold damage.
---

Fire and Smoke Damage
Whether a fire is large or small, the damage can be catastrophic. Additionally, it might be dangerous to your health and safety.
When smoke and fire damage occurs, the city and municipal services of Broward County become involved. This can raise issues that are beyond the knowledge of the majority of homeowners.
---
Cast Iron Pipe Damage
If your home was built before 1974 you probably have cast iron plumbing. Cast iron pipes are only supposed to last 25-30 years, thus failure is not a matter of "if" but "when".
Cast iron pipe failure can affect your home in many ways:
– Drainage system
– Underground plumbing, resulting in a backup of bathtubs, toilets, bathroom & kitchen sinks
– Damaged flooring
– Home's foundation
If you are experiencing sewage odors, drainage backups, bug infestations, gurgling pipes, or water damage, your cast iron pipes may be failing. That is why Aftermath Adjusters & Consulting, LLC strongly advises any homeowners who purchased their house prior to 1974 to contact us for a complimentary assessment. We can assist you in determining if your cast iron pipes are failing.
---
Why Call Aftermath Adjusters & Consulting, LLC in Broward County
Help you get your home and life back in order rather than dealing with an insurance company
Make sure your claim does not get underpaid
Help you even if your claim gets denied
Provide the documentation requested by insurance companies to ensure they have what they need to fully investigate your claim.
Do not delay! Speak with one of our qualified and experienced public adjusters today. Our one-on-one approach enables us to engage with each property owner to ascertain their specific needs and then take the required steps to obtain the compensation they deserve!