There are several benefits to residing in sunny Florida. Wind and hurricane damage, on the other hand, are not among them. Hurricanes, such as Hurricane Wilma or Irma, can wreak havoc on property owners all around the state. As a result, you must be prepared.
What To Do If You've Experienced Damage From A Hurricane
If you have sustained wind and hurricane damage, the first step is to contact Aftermath Adjusters & Consulting, LLC at 954-329-2456! You can feel confident in doing so that we will work hard to obtain the best possible settlement for your claim. Aftermath Adjusters & Consulting, LLC has over 50 years of combined insurance knowledge and has aided customers with claims following multiple major disasters including Hurricane Sandy in New Jersey, Hurricanes Wilma and Irma in Florida and Hurricane Ike in Texas.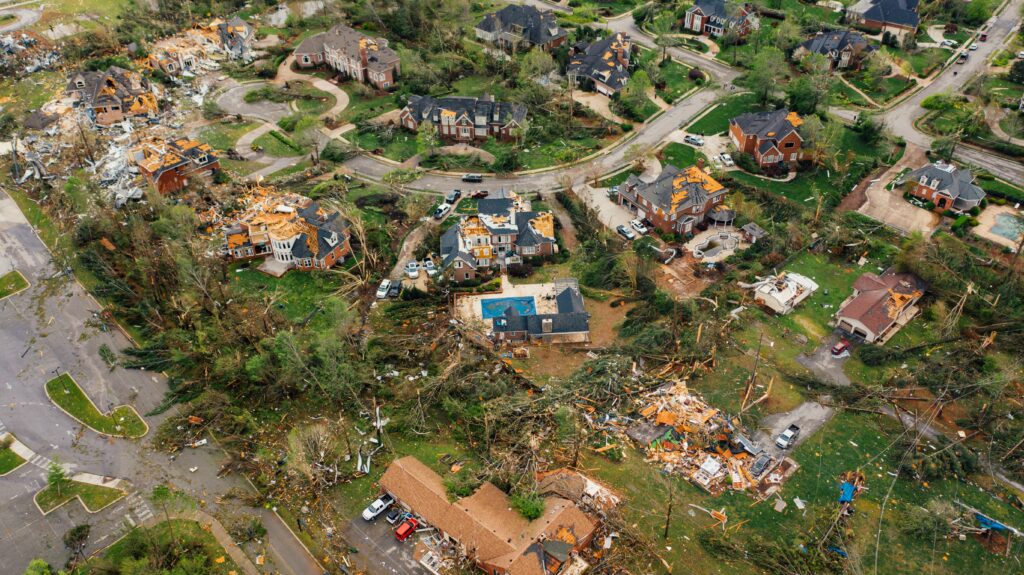 Hurricanes Are Common in South Florida
When you live in Florida or any area at high risk for major storms, you know how problematic wind and hurricane damage can be to your home or place of business. These storms can be catastrophic and the damage they cause is considerable. Unfortunately, even "minor storms" can cause serious destruction to your property. Sometimes what looks like the smallest issue can be the most costly to repair or replace.
The damage caused by hurricanes can impact your entire property. The combination of high winds and intense rain is incredibly dangerous. Among the issues you can expect to see post-storm can include:
Roof Damage: One of the most common "side-effects" of a hurricane is damage to the roof caused by high wind and flying debris.  Sometimes problems are contained to certain areas or only a few tiles. But, when storms are particularly strong, your entire roof can be impacted.
External Structure Damage: High winds can pick up objects including outdoor furniture, grills, rocks, and even trees. When debris like this hits your windows with force, they can break. Additionally, if your house has siding, high winds can pull the panels loose.
Water Damage: One feature of hurricanes can be heavy rain that often results in flooding. When this happens, water can seep into the home through other hurricane-damaged areas and eventually result in mold. Unfortunately, water damage can be difficult to identify as it's not always obvious to an untrained professional.
Electrical Damage: If water enters any of your electrical systems, your home can be at risk for fire. After a storm, this is a significant danger and should be evaluated immediately.
Landscaping Damage: Many home and business owners in Florida have beautiful landscaping. After all, the weather is ideal and trees and bushes flourish here. However, in the event of a storm, landscaping is at particular risk for damage. High winds can uproot much of what you painstakingly planted.
If your property has sustained wind or hurricane damage, you should consider working with a reputable public adjuster. Adjusters like those at Aftermath are skilled professionals that can help you manage the insurance process.
Why You Should Work With a Public Insurance Adjuster
The damage that hurricanes and wind storms cause can be costly to repair. When you deal directly with an insurance company, without the aid of a public adjuster, you assume complete responsibility for the process. You are essentially relying on the insurance company to take care of your needs.
It is important to realize that insurance companies do not have your best interests at heart. They are businesses and paying claims is an expense that negatively impacts their bottom line. Unfortunately, most of the time they hope to convince you to settle for as little as possible. 
The insurance process is complicated. Simply identifying the full scope of the damage to your property can be a challenge. As a homeowner, you may not be able to recognize all of the issues with your property or understand the costs associated with repairing them. When you work with a public adjusting firm, their professionals represent you. Public Adjusters take on your goal to return your property to its condition before the storm, leveraging their experience and expertise to get you the settlement you need and deserve.
What We Do
At Aftermath, we have a proven reputation for helping our clients by accurately identifying and documenting the complete damage they have experienced. Our professional adjusters know and understand the damage that hurricanes and wind inflict.  
Our professionals apply their expertise on your behalf. The combination of our team's knowledge of construction, hurricane damage and the insurance claim process is a valuable asset when it comes to getting the settlement you deserve.
We know where to look and how to accurately document damages. We understand what insurance companies want to see. When you work with us, we take this time-consuming and often aggravating process off your hands.  
When individuals try to navigate this process on their own, they often make mistakes and miss intricate details. They simply don't have the knowledge base and experience to manage insurance claims effectively. At Aftermath, our professionals will complete all necessary paperwork and negotiate aggressively on your behalf. Quite simply, obtaining a settlement that will help bring your property back to the condition it was prior to the storm is our priority.
Contact Us Today
Hurricane and wind damage is not a joke. If your property has been impacted by high winds or a hurricane, please reach out to us immediately. Our experts are ready to go to work for you to help you get the best possible settlement.  
We can help submit new claims and, if your claim has been denied or you believe you have been underpaid, we can also address those issues and assist with your appeal.
We are available to help with all of your wind and hurricane damage needs.
CONTACT US
Enter your contact information below for your FREE no obligation property inspection and claim damage review.