Jupiter Public Adjusters – Aftermath Adjusters & Consulting, LLC
We have handled thousands of claims and are the top-rated Jupiter Public Adjusters. Buying real estate, whether for personal or business, is a significant endeavor. Doing so marks a milestone in one's life because it is a considerable investment that has taken a lot of time, money, and effort. If you are a property owner, then you have worked hard to achieve this goal. Therefore, it is important that you take all the necessary steps to protect your investment.
One of the necessary steps is property maintenance. However, even when you do everything to keep a property maintained, sometimes things can go wrong. For those living and working in Florida, you understand that property damage is simply part of the package. That means that another necessary step, in fact, a key to protecting your future, is the right property insurance.
Unfortunately, even the very best coverage isn't a guarantee that your claims will be settled quickly and for the full amount needed to repair the damages. You see, insurance companies are a business, and businesses do what they can to make money. Paying out claims causes insurance companies to lose money. So, it is not uncommon to find insurance companies denying or underpaying claims.
The best way to avoid this scenario or rectify it is to hire a reputable public adjuster like Aftermath Adjusters & Consulting, LLC. Our team in Jupiter has extensive experience, especially for damages most likely to occur in the local area. In fact, we have over 50 years of combined experience helping property owners in Florida handle their insurance claims.
We assist our clients by handling the entire claims process. Specifically, we:
– Attend all on-site property inspections
– Complete and submit all forms and paperwork
– Create a professional estimate based on damages
– Act as the go-between between you and your insurance company
– Negotiate a settlement on your behalf
We meet with our clients to determine, not only the damages to their property but also their goals for settlement. Then we work hard to get the settlement our clients deserve.
---
Categories of Insurance Claims
There are many different issues that can result in damage for Florida property owners. Many include those caused by weather including flooding, storms, and high winds – or a catastrophic combination of all three. Others may be due to failures within the home.
Regardless of the cause, it may be difficult to get the appropriate settlement from your insurance company. Working with a public adjuster gives you an advantage. They have the ability to leverage their expertise and knowledge from the beginning to the end of the process. When they do, you are far more likely to get the settlement you need to restore your property.
---
Wind & Hurricane Claims
Jupiter is a popular destination for residents and small businesses. It was recently put in the top 10 Southern Beach Towns to live in. Why? Because Jupiter has great schools, friendly residents, and amazing weather. That is until a hurricane is on the horizon.
For city residents who have suffered hurricane and wind damage, we are here to help you figure out the insurance process. Reach out right away so we can get to work on your claim. Let us help you get a fair settlement so you can begin to rebuild your life.
---
Roof Leak Claims
The Aftermath Adjusters & Consulting, LLC team has expertise in roof leak claims. In fact, they are one of the more common damages we deal with. We understand that roof leaks can be caused by a number of things including:
– Wind
– Falling branches
– Lightning
We also understand that getting compensation for roof leaks is not easy because many insurance policies limit coverage depending on the cause. Others claim that the age of your roof precludes you from having a claim. This is not true if the roof leak is due to the weather. That's why you need us on your side. Our professionals know how to determine the cause of the leak to help you get the settlement you need.
---
Water Damage Claims
Even a tiny water leak can cause enormous damage in a very small amount of time. If you have experienced burst pipes, leaking faucets, or broken appliances, then your home or business is subject to flooding, mold, water stains, and even structural damage.
It's imperative that you address water damage quickly, which is why you need our team. We can inspect your property and accurately document the problems – even those you didn't know you had. Because we know where to look and how to document the damage, we can get you the compensation you deserve.
---
Mold Claims
Mold grows swiftly, and mold that isn't addressed causes damage. That's why mold should be addressed immediately.
Unfortunately, insurance policies often do not cover mold damage – it depends on the cause. In most cases, if the mold is caused by a covered issue, then it is covered. So, for instance, if you have mold due to hurricane damage, it may be a covered claim. Determining this on your own is difficult because there are so many different clauses and exceptions. Using our adjusters takes care of this issue because we are familiar with mold claims and can help you with the needed documentation to get remediation quickly.
---
Fire and Smoke Claims
Fire destroys everything in its path. Unfortunately, the smoke also causes damage beyond the fire line. If your property has experienced fire and smoke damage, the first thing you need to do is call the Jupiter Fire Department. This is true even if you didn't need their help extinguishing the flames. You see, their report will be instrumental in getting you a full settlement. Without the report, an insurance company can deny a claim.
---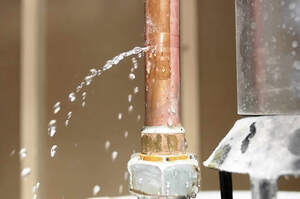 Cast Iron Pipe Claims
With Jupiter incorporated in 1925, there are many properties with homes and businesses built before 1974. If you own one of these properties, you may have cast-iron pipes. Since these pipes only last 25 to 30 years, there is a good chance these pipes are deteriorating.
Decaying cast iron pipes cause problems like drainage issues, plumbing backups, and structural damage. In addition to noting these events, those with cast iron pipe damage may also note odd noises in their pipes, insect and rodent infestations, or the smell of sewer.
If you have an older property, take action right away. You can contact us for a free home assessment. We will inspect your pipes, identify any signs of early decay, and help you know the next steps for addressing the problems – all before you have costly damage to your home.
---
Why Call Aftermath Adjusters & Consulting, LLC in Jupiter?
Filing and managing an insurance claim is extremely difficult, especially for property owners who don't have the necessary knowledge and experience. Our Aftermath Adjusters & Consulting, LLC team will apply our expertise to help you navigate this complex process.
Because of our positive reputation for providing high-quality service and personalized attention, you can count on us to:
– Handle the entire process from beginning to end
– Compile, complete, and submit reports and paperwork
– Review claims that were denied or underpaid
– Appeal claim denials adding necessary documentation to support the appeal
What are you waiting for? Contact us today to schedule an appointment. Let us successfully resolve your insurance claim issues today.