North Palm Beach Public Adjusters – Aftermath Adjusters & Consulting, LLC
Purchasing property is a big step that requires a lot of hard work and often years of savings. That's why when you sustain property damage, you want your insurance company to pay out quickly and easily. Unfortunately, submitting a property insurance claim is tedious, time-consuming, and challenging, as is getting the appropriate compensation. Our North Palm Beach public adjusters are the highest-rated in the city.
Property owners in North Palm Beach understand how important it is to get the right insurance because damages are likely to happen. They spend hours researching to find just the right company. That's why they are often dismayed to discover that getting a settlement to a claim isn't guaranteed. In fact, quite the opposite is true, with many homeowners having to fight to get what they deserve.
Insurance companies are businesses with the goal to make money. This means that your best interest – to get the best payout possible – and their best interest – to make a profit – are at odds. The insurance representatives want owners to settle for as little as possible, which is not enough to make the needed repairs.
At Aftermath Adjusters & Consulting, LLC, we have worked with property owners in this exact situation. Our team of public adjusters in North Palm Beach has helped others in your community address these issues associated with property insurance claims. Whether you have a new claim or are fighting an unpaid or denied claim, we can help.
If your North Palm Beach property has been damaged, give us a call, and let us go to work on your behalf. We will use our 50+ years of professional experience to help you achieve a successful claim.
---
The Insurance Claims Process Is Complex
Even if you work hard to take care of your property, you may find that something causes damage. In fact, for most homeowners, it is inevitable. After all, Florida is a hurricane hotspot, and all homes can suffer from unforeseen issues.
Because there are so many things that can go wrong with a property, and because insurance companies have so many rules and regulations for filing a claim, the entire process is complex. Most property owners simply don't have the experience to deal with claims in an efficient and non-stressful manner.
A reputable public adjuster is what you need. They can help you from start to finish, keeping the process moving smoothly. Aftermath Adjusters & Consulting can provide you with the service needed to get the settlement you deserve.
---
Life-Changing Wind & Hurricane Damage
Residents here like to say that North Palm Beach is the best place to live under the sun. Although it is a tropical paradise, the area is also known for its hurricanes and tropical storms. For property owners, storm damage is a regular occurrence.
Damage from flooding and strong winds can run into thousands of dollars. That's why homeowners need their insurance companies to support them by paying their claims quickly and in full.
---
The Impact of Roof Leaks
There is no such thing as a minor roof leak because even a small leak can cause extensive damage. Unfortunately, not all roof leak damage is covered by your homeowner's insurance policy.
A public adjuster can help you determine the cause of the leak and whether the cause is covered. For instance, roof leaks as a result of a storm are often covered – even if your roof was old at the time of the weather event.
Our North Palm Beach team at Aftermath Adjusters & Consulting, LLC is key to getting a fair settlement from your insurance company. We will inspect your roof, determine the cause, identify all the damage caused by the leak, and extensively document all of our findings. We know what your insurance company needs to see to validate the claim, and we work to provide all the necessary information quickly and accurately. In this way, the homeowners we work with get a faster, more favorable result.
---
Water Damage is Problematic
Water may not seem harmful, but when it is in your home, it can cause a significant amount of damage. The longer the issue continues, the worse the problem gets. If a pipe bursts or a faucet leaks, homeowners can be left with water stains, mold, warped floors, and even structural damage.
Our team understands how to handle water damage claims. Call Aftermath Adjusters & Consulting as soon as you realize you have a problem. We will inspect your property, assess the damage, identify the source of the problem, and fill out all the necessary paperwork to get the claim moving. We understand that time is of the essence when dealing with water damage.
---
The Impact of Mold Damage
Mold is not a word any property owner wants to hear. Mold remediation is costly, but left untreated, the problem only gets worse causing health issues and structural damage.
In many cases, mold damage isn't covered by insurance. However, mold due to a covered water damage claim may be. Our North Palm Beach team can help you determine the cause of the mold. Then, once we get a claim started, we attend all inspections, prepare the estimate, and fill out all the needed documents and forms. The sooner we get started, the sooner the remediation process can begin. Because we know what your insurance company needs, you can rest assured that your claim will go through as quickly as possible.
---
The Facts About Fire and Smoke Damage
Fire, and the smoke that accompanies it, can move through a property quickly, causing terrible destruction. In many cases, homes and businesses are uninhabitable after a fire, leaving property owners stranded.
Unfortunately, many of these claims are denied for one simple reason: the owner doesn't have a fire report. That's why it is important for you to call the North Palm Beach Fire Department if you have a fire – even if you put it out yourself. Their report will be key to getting a fire and smoke damage claim settled quickly.
---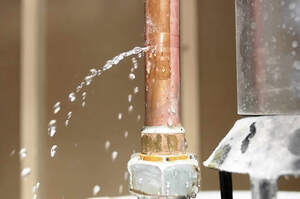 Understanding Cast Iron Pipe Damage
North Palm Beach won an award from the National Association of Home Builders as a best-planned community. That was in 1956, and since then, the area has continued to grow. However, those early homes were likely built using cast iron pipes, and these pipes have a limited life span of just 25 to 30 years. This means that many homeowners may have decaying pipes.
If the property you own was built prior to 1974, or you hear gurgling pipes, smell sewer, or are experiencing backups or slow drainage, contact us for a free inspection. We can help you determine if you have cast iron pipes if they are decaying, and what your next steps should be. The sooner you address these issues, the better it will be on your wallet.
---
Aftermath Adjusters & Consulting, LLC: Our North Palm Beach Team is Ready to Work for You
Having experienced, qualified professionals on your side can be the difference between getting a full insurance settlement and having to make the repairs on your own. Don't go it alone – engage a professional today!
With a knowledgeable public adjuster, you get someone who understands both construction and insurance. That means we can inspect, document damage, determine causes, calculate repair costs, and submit the necessary paperwork needed for a claim. Let the North Palm Beach team at Aftermath Adjusters & Consulting, LLC handle the entire process.
We will fight to get you the settlement you deserve while you get back to the life you had before the damages occurred. Contact our North Palm Beach public adjusters team today and learn what we can do to support you in your time of need.