Riviera Beach Public Adjusters – Aftermath Adjusters & Consulting, LLC
Owning a home takes a lot of work – from saving up the money for the purchase to keeping the investment in great shape. That's why if a disaster occurs, you'll want the assistance of an expert, our highly-qualified Riviera Beach public adjusters to help you with your claim.
You see, insurance companies aren't typically on the side of the policyholder when paying out a claim. Instead, they do what they can to make a profit, and settlements are not profitable.
On the other hand, a public adjuster is always on your side and will help you negotiate an appropriate settlement for property damage. Serving Riviera Beach, Aftermath Adjusters & Consulting, LLC will save you time and money as our skilled adjusters work hard to get you the compensation you deserve.
If you own property in Riviera Beach that has been damaged, the best thing you can do is retain a public adjuster to advise you during the insurance claim process. Our public adjusters in Riviera Beach will work closely with you at all stages of the process.
Public adjusters play a critical role in securing the compensation you are due. That's because an experienced public adjuster operates as your representative when reviewing, filing, and negotiating an insurance claim.
We know how difficult the claims process can be for locals of Riviera Beach. With over 50 years of professional experience, we understand the process and will work to help you from start to finish. You can count on us to be there from the very first inspection. We will collect and submit all the necessary data and paperwork, prepare a detailed estimate, and work with your insurance company. Plus, we will keep you informed during the entire process.
---
Several Types of Insurance Claims
Property damage happens due to extreme weather, such as flooding, winds, and storms, as well as due to issues within the home, such as burst pipes. Each type of insurance claim needs different paperwork to justify the claim. Having a public adjuster on your side means you won't have to deal with the insurance company on your own.
---
The Wind & Hurricane Damage Claim
Riviera Beach is known as the Best Waterfront City in which to live, work, and play. In other words, living in the area offers a number of advantages. However, residents do have to deal with damaging storms. For Floridians, hurricanes are a part of reality, but the damage can be nightmarish.
If your Riviera Beach property suffers damage due to wind or hurricanes, Aftermath Adjusters & Consulting can help. Contact us today, and we will work diligently to get you a settlement that meets your needs.
---
The Roof Leak Claim
Unfortunately for homeowners, roof leaks are rarely covered by insurance. Because of this, many people do not know when they have a roof leak claim and when they don't. They make assumptions about the cause of the damage that is untrue or falsely believe that the age of the roof precludes them from compensation.
That's why property owners need the experience and expertise of Aftermath Adjusters & Consulting, LLC. We can help you identify the cause of the leak and get you a settlement – regardless of the age of your roof – if the leak is due to wind, lightning, and falling trees or limbs. Let us work to help you collect the maximum insurance payout possible.
---
The Water Damage Claim
Insurance companies deal with more water damage claims than any other. Water damage often occurs due to:
– Faulty plumbing – burst pipes, leaky faucets, overflowing toilets, etc
– Malfunctioning appliances – hot water heaters, dishwashers, washing machines, garbage disposals, etc
– Broken water lines – ice maker water line, air conditioner condensation line, etc
– Burst underground pipes
Water damage happens quickly leaving homeowners with stains, discoloration, and even structural issues. Aftermath Adjusters & Consulting, LLC can help you discover all the damage caused by the water so you can get the repairs you need.
---
The Mold Damage Claim
Although most mold damage is not covered by insurance, mold damage caused by a covered water damage event is. If you have mold due to water damage, we can help you put together an insurance claim that will verify the cause and the extent of the damage.
---
The Fire and Smoke Damage Claim
Fire is destructive. Believe it or not, the smoke associated with a fire can be just as destructive. Both have the potential to destroy your property, even if the fire was a small one.
When smoke or fire damage occurs to a Riviera Beach property, be sure to notify the fire department. You will need their report when documenting the damage for a fire and smoke damage claim. Without this report, complications may arise.
---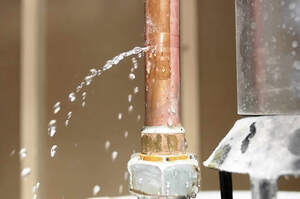 The Cast Iron Pipe Damage Claim
Riviera Beach was incorporated in 1922 and converted from a town to a city in 1959. That means many of the older properties in the area were built prior to 1974 when using cast iron pipes was a common practice.
Unfortunately, cast iron pipes deteriorate after 25 to 30 years. When this happens, your property will begin to experience sewage issues, backed-up plumbing, issues with the flooring, and even foundation issues.
It's not always easy to tell if you have cast iron pipes. However, if you hear gurgling in the pipes, notice a sewer smell, deal with clogs and slow drainage, or notice an increase in insects, it's time to give us a call. Our Aftermath Adjusters & Consulting, LLC team will schedule a free home inspection to determine if you have cast iron pipes, their condition, and what you should do next.
---
Why Call Aftermath Adjusters & Consulting, LLC in Riviera Beach
As a homeowner, it is easy to feel overwhelmed when dealing with your insurance company about a claim. Our team at Aftermath Adjusters & Consulting is there to do the work so you don't have to. We can even help you if you've had an underpaid or denied claim, which is often due to improper or incomplete documentation.
Don't wait! Call and speak to one of our highly qualified public adjusters today. We'll take the time to get to know you and your issues so we can best assist you to get the settlement you deserve.