Royal Palm Beach Public Adjusters – Aftermath Adjusters & Consulting, LLC
We have helped thousands of homeowners and are amongst the top-rated Royal Palm Beach Public Adjusters. To be a homeowner in Royal Palm Beach means that you're a careful planner and hard worker. Without a doubt, keeping your property in tip-top shape is a priority. Because your property is in Florida where severe weather is common, it is important for you to have appropriate insurance coverage. Otherwise, the damage from tropical storms and hurricanes would be catastrophic.
Unfortunately, simply having the best insurance coverage and paying your premiums on time doesn't mean that your insurance claim will be paid quickly or fairly. Royal Palm Beach property owners often face delayed, underpaid, or denied claims. That's because an insurance company is a business that looks out for its own interest. Paying out for claims is an expense that keeps them from making a profit. Therefore, they do what they can to deny claims or get property owners to settle for less than they deserve.
If you own property in Royal Palm Beach and have sustained damage, Aftermath Adjusters & Consulting, LLC can help.
Our team of public adjuster professionals in Royal Palm Beach understands both construction and insurance. Plus, we have extensive experience serving property owners in Royal Palm Beach. That means when you hire us to manage your claim, you can rest easy knowing that we know what to do from the beginning of the claim process to the end. With us on your side, you can get back to focusing on your family, business, and life.
---
Several Causes of Property Damage
When you own Florida property, many things can go wrong – even if you take meticulous care of your home or business. If you have to file a property insurance claim, you'll need your insurance company to step up and help you make the costly repairs.
However, insurance claims require a mountain of paperwork done the right way and within the right timeline. And each type of claim is different. If you don't get the paperwork and inspections needed, you won't get a fair and accurate settlement needed to repair your Royal Palm Beach property. That's why you need the help of a professional public adjuster.
---
Florida Hurricane and Wind Damage
Who wouldn't want to live in Royal Palm Beach with its close to 350 acres of parks and 29 miles of waterways? However, despite the beauty and amazing tropical weather, storms are a part of life when living here – especially during hurricane season. Even tiny storms can cause unbelievable damage.
If you live in Royal Palm Beach, you have seen the damage that Florida storms cause. And, the insurance process to take care of this damage can be overwhelming.
If you have suffered damage to a Royal Palm Beach property due to winds or hurricanes, contact the local professionals at Aftermath Adjusters & Consulting, LLC. Our team can get started right away to get you the compensation you deserve.
---
Roof Leak Claims
The Aftermath Adjusters & Consulting, LLC team has expertise in roof leak claims. In fact, they are one of the more common damages we deal with. We understand that roof leaks can be caused by a number of things including:
– Wind
– Falling branches
– Lightning
We also understand that getting compensation for roof leaks is not easy because many insurance policies limit coverage depending on the cause. Others claim that the age of your roof precludes you from having a claim. This is not true if the roof leak is due to the weather. That's why you need us on your side. Our professionals know how to determine the cause of the leak to help you get the settlement you need.
---
Destructive Roof Leaks
For years, we have helped Royal Palm Beach property owners submit their roof leak claims. Without our help, many people are unaware that their roof leak is a covered event or assume that the age of their roof keeps them from being able to file a claim.
We understand that leaks caused by weather – wind, lightning, falling trees/limbs – is a covered property insurance expenses regardless of the age of your roof. However, you have to have the right documentation to prove the cause. This can be challenging, but not for the professional public adjusters at Aftermath Adjusters & Consulting.
Let us review your policy, and your property's damage, and file a claim on your behalf.
---
Water Can Cause Major Damage
If you are a homeowner, you are likely to experience water damage at some point in time because it is the most frequent type of insurance claim filed. Water, even a small amount in the wrong spot, can cause extensive damage. Whether the water comes from a leaky faucet, burst pipes, or faulty appliance, the damage can be devastating, leaving a property owner with mold, stains, and even structural issues.
The most important thing to do when you have water damage is to dry out the property quickly. This prevents further damage. The second most important thing to do is contact our office in Royal Palm Beach to schedule an inspection of your damages. Our professional team of public adjusters will inspect your property, document the damages, and file a complete claim to your insurance company so that remediation can begin immediately.
---
No One Wants Mold Damage
The word "mold" causes fear in most property owners. That's because mold causes an enormous amount of damage, spreads quickly, is costly to remediate, causes health issues, and is often not covered by property insurance.
However, if the mold issues are due to a covered water leak, you may be in luck. Our Royal Palm Beach team of public adjusters can inspect your property to determine the cause of the mold plus help you take the steps needed to begin repairs. Our team will manage the claim from start to finish, including inspections, reports, documentation, and negotiations.
---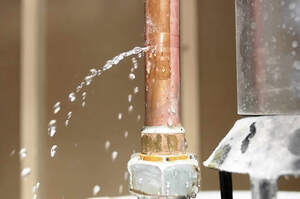 Handling Fire and Smoke Damage
Fire damage combined with smoke damage can cause massive devastation to your property. However, without the proper documentation, your insurance company can deny your claim.
Be sure to contact the Royal Palm Beach fire department if you experience a fire or smoke damage – even if you put out the fire yourself. They will provide you with a fire report that is necessary for a successful claim settlement.
---
Do You Have Cast Iron Pipes?
Although the biggest growth in the area happened in the mid-1980s, Royal Palm Beach began erecting homes in the early 1960s when it was common to construct homes using cast iron pipes. These early homes, though beautiful and historic, likely have a hidden problem – decaying pipes.
Homeowners who hear gurgling pipes, smell sewage, see water stains, deal with slow drains and backups, or cope with insect infestations may be dealing with cast iron pipe damage. If left untreated, deteriorating pipes can cause permanent structural damage to your property.
Call today so our Royal Palm Beach professionals can inspect your home. During our free consultation, we will identify whether you have cast iron pipes, the shape they are in, and what you need to do to stop costly damage from occurring or continuing.
Contact Aftermath Adjusters & Consulting, LLC in Royal Palm Beach for more information.
---
Aftermath Adjusters & Consulting, LLC: Let Us Help You
If your Royal Palm Beach property has suffered damage, and you need to file an insurance claim, it makes sense to get the help of qualified professionals. There is no need to handle the overwhelming claims process alone when you can have someone on your side who understands all the ins and outs.
Our reputation for being knowledgeable, experienced, and professional in Royal Palm Beach is well-known. We work hard to help local residents navigate the insurance claims process with the greatest care. Our team will put our expertise to work for you so that you can get the settlement you need and deserve.
Whether you have a new claim or are dealing with an underpaid or denied claim, we can help. If your Royal Palm Beach property has been damaged, contact Aftermath Adjusters & Consulting, LLC immediately. We are ready to fight for you!